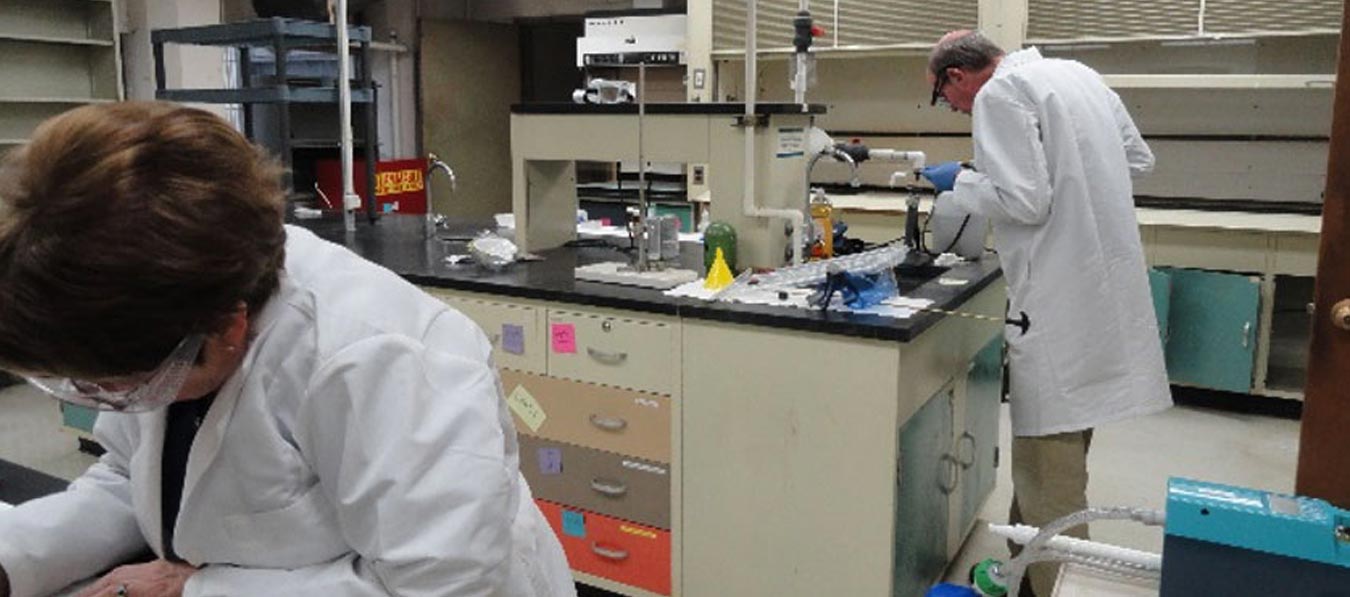 FDA Lab Decommissioning Project Phase II, St Louis, MO
Project Name: FDA Lab Decommissioning Project Phase II, St Louis, MO
Final Award Amount: $140,234.50
Period of Performance: 20 Sept 2014 to 15 Dec 2018
Prime Contractor:
TerranearPMC, LLC
222 Valley Creek Boulevard, Suite 210
Exton, PA 19341
Background Review and Planning – AE assisted in the development of a health and safety plan (HASP) and sampling and analysis plan (SAP) to detail hypotheses, sampling procedures, analytical test methods, limits of detection, relevant regulatory and non-regulatory guidelines for comparison, quality control (including field blank wipe samples) and quality assurance objectives, and reporting requirements for the tasks outlined herein.
Mercury Vapor Survey – A mercury survey using an OhioLumex RA 915+ mercury vapor analyzer in approximately 15,000 square feet of laboratory was conducted to determine if mercury droplets are trapped in flooring or casework crevices. A minimum indoor ambient temperature of 80°F was required in monitored space during the mercury vapor survey. Where mercury was detected, the location and vapor concentration was recorded. Additional investigation was performed where the air survey action level (ASAL) of 250 nanograms per cubic meter (ng/m3) was exceeded. Findings were reported and a work plan for clean-up was developed. Upon completion of the mercury vapor survey, a report detailing the location of suspected mercury was generated along with recommendations for Phase III remedial action.
Sink Inspection and Sampling – Fifty (50) sink traps were inspected for the presence of mercury vapor and visible mercury on swab media. No sink traps were opened during Phase II. Each sink trap was swabbed and the swabs were placed in a clear plastic bag for inspection. The air in the plastic bag was tested with a mercury vapor analyzer and the concentration was recorded. A separate wipe sample was collected and analyzed for reactive azides. Results of the sampling was reported along with recommendations for Phase III remedial action.
Sampling of Fume Hoods – Twenty-six (26) stationary and one (1) mobile chemical fume hoods and associated ductwork were inspected and sampled for the presence of hazardous chemicals (eg., perchlorate salts, picrates, sodium azide, mercury and other metals) in order to determine the need for further testing and decontamination. Sodium azide, picric acid and a variety of metals were listed in the chemical inventory of the Phase I ESA report. Historical use of perchlorates was suspected and could not be ruled out without testing. Ducts were visually inspected using a lighted borescope. Each fume hood was visually examined, dust accumulation was qualitatively rated (low, moderate, heavy dust accumulation). A mercury vapor analyzer was used to determine mercury contamination inside the fume hood and at the interior exhaust inlet. The duct was lightly rinsed with distilled water and the rinsate collected in a glass container. The rinsate was tested with methylene blue for the formation of a violet precipitate that would signify perchlorate contamination. Wipe samples were submitted to a laboratory for reactive perchlorates, picrates, and azides and metals analysis. During any individual fume hood investigation, work was stopped if crystals were observed or if a violet precipitate formed during field testing. Visible crystals or a positive field test represent a significant potential for explosion if disturbed
Note: In order to access the ductwork inside the fume hoods, interior fume hood panels were moved or removed. These panels may be asbestos-containing Transite. Moving the panels was not considered an abatement activity; however, in the course of moving the panels, breakage could occur. An abatement contractor was on standby to package and dispose of broken panels.
Hood and duct investigations included a combination of wipe samples, rinsate collection and analysis and video inspection. Samples that required chemical analysis were submitted to accredited laboratories as appropriate. Activities conducted by AE included labor, sampling media and equipment, and certificates of analysis. A comprehensive report with sampling methodologies, results, conclusions and recommendations was provided.
Name of POC: James Allgire, Food and Drug Administration
Telephone of POC: 314-849-0548
Email of POC: James.allgire@fda.hhs.gov
USACE PRIME CONTRACT NO.: W912DQ-13-D-3011 DO#2
Aria Personnel:
Michele Twilley, DrPH, CIH
Daniel Twilley, REM, CET
Julie Barth, CIH, CSP, LEED Green Associate
Diane Zerbe
Cost Estimate for Mercury Abatement: $272,000